"That was the most people singing at karaoke, and everybody sang, thanks to you!?…Nancy Rimler, Corporate Event Planner.
Karaoke
Looking for a Karaoke DJ? We are experts! Now more popular than ever,  an international craze. That's why we have pop songs from the U.S. charts as well as from many different countries, so you and your friends can star in your own "Idol Competition." We even provide props and party favors. You can be the next Elvis or "Uptown Funk"
Find A Karaoke DJ Easily !
Singers, You are All Stars! You can win a gold medal and all you have to do is sing karaoke. We are giving away prizes for the winning team/singers. This is going to be so much fun its going to be a hoot! You can be in the contest.  – American Idol – Next Up is …..You might lmao or even howling is this karaoke or scaryoke?
Singing is a great addition to your party and we can even do both DJing and karaoke if you want . Whether its Elvira, Fever, Grease, Rockin Robin, New York New York, From This Moment, Beyond The Sea, I Wanna Hold Your Hand, We Are Family, or Hot In Here, you name it–we always have request slips and books and pens right there.
Big Screen Projector – Audio Visual  with Great Music and Fun for all! Your event will be in good hands with one of the most requested DJs in the bay area! As well we service northern California – Our karaoke collections massive! Over 100,000 Selections, For DJ we have over 50,000 CDs in our collection and receive the top 20 every month in Adult Contemporary, Top 40/rock-Country-oldies-r&b-latin-motown. Our library is huge and we are sure to have the music you need. If not we will get it for you! Be the star! Your event will shine with Bay-Area-Disc-Jockeys–wedding specialist, party expert, and karaoke host.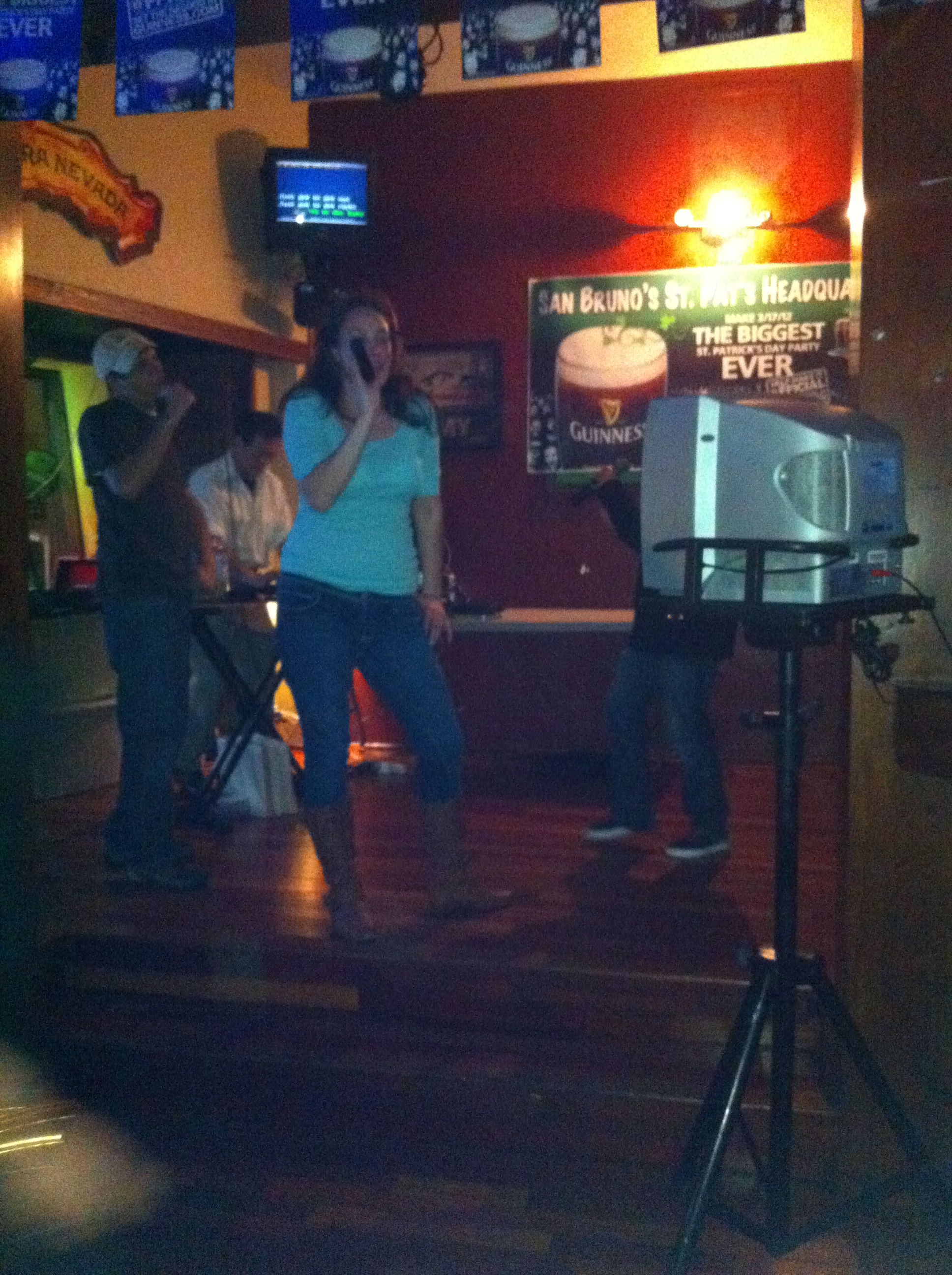 Mtv Karaoke cdg-compact disc graphics, vcd-video cd, dvd digital video discs, Ld laser disc. Offering a complete DJ and Karaoke service including Pro-Audio equipment, MC services, Pro-Lighting, Thousands of Musical selections, all for one reasonable price. The Bay Area Singer Specializing in Private Parties, Fraternity Events, Sorority Events, Weddings, Schools, Bar Mitzvahs ,and the clubs/pubs/bars in the bay area.
We can also provide Catering, Photographers, Videographers, Party and Theme Rentals and event/party planning
Style, elegance & fun is what we bring to every occasion. Choose us for your next event, Bay Area DJs our quality and prices can not be beat.
Call or Contact for complete Info.
As Well as being the king of American karaoke we also offer: USA , Asian , Vietnamese , Mandarin , Filipino , Cantonese , Japanese , Korean, Indian , Latin , Etc! Bravo, Namaste, Kai, Singalong, Konichiwa , Gong Xiu , Gong Hey

Please Contact us if you have any questions at:
415.350.5474
Ask about our Karaoke Rentals:
English Rental Songs
English  Rental Songs 2